June 20th, 2013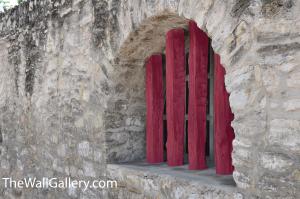 Who doesn't remember the legendary Alamo? Originally built as Mission San Antonio de Valero. From a contemporary artist / photograhers' viewpoint, the architecture and grounds speak volumes. Having not been to the Alamo since I was a teenager (trust me...many moons ago), my wife and I went to the San Antonio Riverwalk and the Alamo for a day. Both are spectacular and the city of San Antonio has done an incredible job keeping the flavor of both very much alive. What struck me about the Alamo, were the details in the architecture. I found the windows fascinating in their artistic appeal which leads me to this post.

I took a number of shots and have posted one of them here. I was starting with the original shot and then I felt compelled to paint the wood for an artistic impact. I have received mixed feedback on doing so and thought I would open it up to more feedback. I had a vision and does this capture the punch I thought would look good or is it an artist's delusion. Ultimately art is in the eye of the beholder and what looks good to one person looks not so good to another. Attached is the red I painted...

April 4th, 2013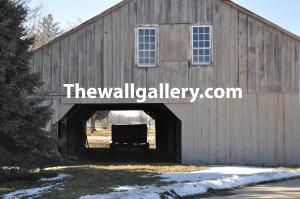 I was in the midwest during the middle of February. Living in San Diego, it's easy to forget how cold winter really is....that trip was a quick reminder. One of my goals was to do a shoot of barns. I found my opportunity around the Amana colonies (if you have never been there or heard of it....worth a visit...old German settlements based on concept of a farming commune). The colonies are located along the Iowa River Valley, so there are rolling hills and woods dotted with farms. It was a lot of slushy through mud...and that's a story unto itself. I got what I came for and I like the look I got. The trees were obviously barren, but that adds to the strength of some of the pictures. I am now going through the pictures I took and would like to walk you through the process I go through to create my art.

Step one: I sort through all of my pictures for the best shots....I usually take 2 to 3 shots of the same thing. From those 2 to 3 (assuming I like what I took), I weed it down to 1. That picture gets a hard look for "framing the shot" . Maybe it's just me, but it seems like I always have subjects just ever so slightly tilted...I must stand crooked??  Anyway, I then crop and adjust accordingly...the samples attached show only a minor adjustment on this shot.....some are more extreme and some no adjustments or cropping are needed. All of that said, this completes the first step and then I put the resulting pictures in a folder for the next step...painting. More on that with this picture as I work through the rest of the batch from the shoot. Stay Tuned!!

Can you see the subtle differences? There wasn't any "tilting" in this one, but I did tighten up the bottom portion and if you look real close a "one way" sign disappears through the barn just above the hay rack.



TheWallGallery.com